The Blue And White Blighter - A Finish!!!
*gropes around for light switch* *gasps in horror at the dust* *flicks around a tickle stick* *shows age*
Hello!
Today the
Q1 finishes link opens for the 2017 Finish-Along
and I thought it was high time I started catching up on blogging about my (sort of) recent finishes.
My Q1 FAL list can be found here
, and this blog is all about item one, the big blue and white quilt.
I started the quarter in my usual manner: like a greyhound out of the traps. I then continued in my usual manner: having a lie down about quarter of the way round. This time, it was more pronounced because I wanted this quilt finished in time for my mam's birthday in early January.
At the start of the quarter, the project looked like this:
I don't know what that ball of perle is doing there, I certainly didn't use it to sew down the binding!
and I just needed to sew down the binding to the back.
Here's how it looked when I finished it:
I started this project in March 2012, but it had been in the planning since August 2011 when Mam and I visited a local show and started collecting fabrics for it (it's harder than you'd think to find fabrics with only blue and white in them) and planning the size, etc. It first appeared on my FAL list in Q2 2013, when
Leanne
was the host.
I washed and ironed all the fabrics (including several metres of white on white) and then cut all the blues into 2.5" squares (and made myself ill in the process, I seem to remember):
I didn't strip piece because I wanted each nine patch to be different. Things would have been easier and faster if I hadn't!
I was going to mix up the prints in each nine patch:
but didn't like it, so sorted all the fabrics by print and arranged them so that each nine patch was a different arrangement of two fabrics (that took a while, let me tell you!):
I then made 128 nine patches:
Then I started on the snowball blocks. Again, I thought I'd mix up the prints in each block, but after laying them out, decided I preferred the same print in all four corners:
Things progressed quite slowly, but by April 2013, I was ready to start the mammoth task of laying out 128 nine patches and 127 snowballs and making sure no print was next to itself:
I then labelled each block (slip of paper and a tiny safety pin) and made a map of where they were all going, my piecing sequence and which way each seam would be pressed (I do this for all big projects):
When I started piecing the blocks together, I discovered that very careful pinning was required to get two nice snowball points meeting two nine patch seams. This came as quite a blow and slowed me down considerably. I also discovered that pinning and sewing these seams was really, really tedious. This slowed me down even further. At several points along the way, I doubted I'd ever finish it. In fact, if it had been for me, it would still be in pieces!
Slowly, but surely, I plodded on and in August 2015, I had a finished top which measured 90" x 112":
So big that the only way to get it all in the frame is to lay it on Mam's front and hang out of her bedroom window!
She wasn't impressed when I said she had to stay out there and guard it in case of a strong gust of wind!
I layered and pinned it, after moving every piece of furniture in my front room to accommodate it, and started
the process of stuffing it through the machine
machine quilting.
I used Aurifil 40wt 2720 on the top and 2710 in the bobbin. Initially, I thought I would quilt in the ditches between the blocks (horizontally and vertically) and down both diagonals of the nine patches, but when I finished, I realised it wasn't enough, so I added four extra (diagonal) lines per block:
Well worth the additional hours of quilting!
Then it was the turn of the snowballs and I decided to hand quilt a five-pointed star in the centre of each, using Anchor perle 12wt 128. Here's the first one:
After several weeks of doing only this (and having a target of fourteen stars a week), I was ready to trim it and add the binding. I finished about a week before Mam's birthday and am pleased to say she was thrilled with it! I'll share a photo of it on the bed in my next post, along with a couple of co-ordinating finishes.
Quilt Stats
Design - my own, but it's a traditional combination of blocks
Fabric - assorted blue/blue and white prints, and white on white for the snowballs
Piecing - machine (Aurifil 50wt 2600)
Quilting - machine (Aurifil 40wt 2720 and 2710) and hand (Anchor perle 12wt 128)
Wadding - Warm and White
Size - 90" x 112"
Number of appearances on FAL lists - 10
And here's another photo of the finish (same as the one at the start), just in case you've forgotten what it looks like after all that!
I'm linking up: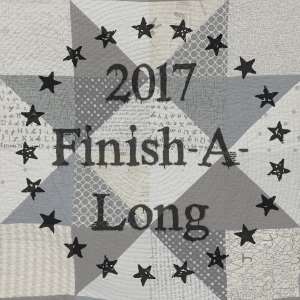 Thanks for popping in!