Sewing Machine Mat
In October 2015,
I made a trug to keep bits and pieces in
(it's really handy if you're taking a project to someone's house/a workshop as you can fit lots in it!) and in the following months, I made
a rotary cutter pouch, a needle book, a scissor holder and a Lola pouch
from the leftovers (I started with a yard of the black and white print and a metre of the turquoise solid). That left this little lot:
I decided that I'd make a mat for my sewing machine to sit on when it's on the table, as it's a bit awkward to push away from/pull towards me when I'm working. And it would be a handy place to stick the odd pin or place a reel of thread on and not have it roll off the edge of the table. As you can see, there's not an awful lot left, particularly not in large pieces, so I decided to add some bright pink solid (to reflect the pink trim on the inside of the trug and the pink quilting and pandas on the pouch) and the remnants of orange sketch I had left from making the Lola pouch.
As I'd recently published my
2016 FAL tutorial for adding accurate narrow strips
, I decided to use that technique to make some pink/turquoise strips for insertion, which would bulk out the pieces and make it a bit more interesting to look at/make.
I then sorted the scraps of black and white and trimmed the largest pieces square, and then tried to work out how I was going to join them together to make a large enough mat. I knew I wanted it to end up around 11" x 18", so used the grid side of my board to lay everything out and keep an eye on the size:
In the end, I had to add larger pieces of the pink and turquoise solid to one side, with the tiny bits of orange I had to act as joining strips:
For some reason, I decided that I'd quilt lots of straight lines in matching thread, with the odd line of contrasting for interest in those larger black areas:
It looked a lot better once all 142 ends were darned in and I'd trimmed the excess wadding!
Then there was just the binding left to do. I decided that it needed some orange inserted in it to give it some balance and brightness on that side, and had just enough left!
All that was left to do then was decide which way up it went for the photo! It measures 11" x 18" (yeah!) and is the perfect size for under my machine. And, best of all, I made it all from scraps, including the wadding!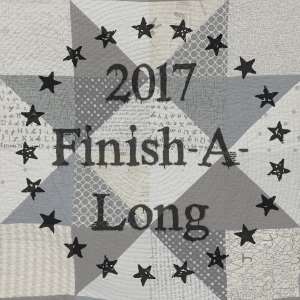 It's lovely that the weather is starting to be nice enough for me to come and visit my favourite wall. And isn't it nice of me to share it with Eddie?
Thanks for popping in!