Pretty Little Thing Mini Quilt
In May last year, I took part in a blog hop for
Oakshott
and made a
table runner
from their gorgeous Lipari range, which was being relaunched. Before I launched into making the blocks for the runner, I needed to piece a test block to check the templates worked. Here it is mid assembly:
I couldn't leave it on its own, so let it choose some potential friends:
I decided to stick with the fabrics from
Monico Solorio-Snow
's
Sew Yummy collection for Cloud 9 fabrics
, so out went that multi dot and in came some tomato pin cushions. I made an exception for the bead lines second down as that would make an ideal binding.
I pieced these blocks in fits and starts in between other projects as I found that having made sixteen whole blocks and four half blocks, my enthusiasm was somewhat lacking. To think that when I made the test block I thought I might up the size a bit and make a big quilt! I think not!
At some point I had three blocks:
Then I had all the whole and half blocks I needed and laid them out. This took longer than you'd think as I couldn't remember how they went together and where the half blocks were going, so I took the photo for reference, in case I forgot again! And also because sometimes you spot changes you want to make when viewing a project on a small screen rather than in real life. (This is how it looked at the start of the quarter.)
I started joining the orange peel segments to the blocks and, as you can see, I don't tend to pin the whole of a curved seam, I do it section by section:
Then the sections started to come together. I took this photo as part of a photo hop on instagram when the prompt of the day was favourite technique:
By mid January, I had a finished top:
An hour or so at the sewing machine saw it quilted, and then it was trimmed and had the binding stitched to the front, ready for sewing down while I watched telly. And then it was finished! (And less than a year after I started it!!)
As you can see, I kept the quilting simple and just went straight through each orange peel segment in white 50wt thread. It's now pinned to my sewing room wall (you can just see the clear push pins in each corner) and I'm really rather pleased with it!
Quilt stats
Block: Pretty Little Thing block (found in
5500 Quilt Block Designs by Maggie Malone (ISBN 4972507749), where it's called 'A Pretty Patchwork')
Fabric: bright pink Oakshott background, Sew Yummy fabrics for the rest of the block pieces, something stripy for the binding
Piecing: hand, using Aurifil 50wt 2600 (dove grey)
Quilting: machine, using white 50wt (either Gutermann cotton or Aurifil, I can't remember)
Wadding: Vilene H640 (fusible fleece)
Size:13" x 18.5"
As it's the end of the first quarter, it's time to
link up to the Finish-Along
.
My Q1 FAL list can be found here
and this post is about item fifteen.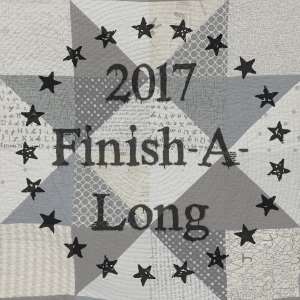 Archie's ideal way to spend a chilly day:
Do not disturb
Thanks for popping in!